Arden Web Design Improves Your Website's Usability by Optimizing Your Site
Websites are a must-have advertising piece for companies of all sizes. They provide your customers with so much information and go a long way in officializing your business overall. With so many options in getting a website for your company, however, it can be easy to get one that is only "good enough." You've experienced these types of website yourself. They are frustrating because they're slow or confusing and eventually you click out of them, and once you do, you know that you will never return. Your customers are doing the same thing to the website you threw together one evening in the hopes that just having a site online would be good enough.
Don't push away your customers with a bad website. Instead, get one that works seamlessly from a web company that specializes in building professional websites like Arden Web Design. The experts at Arden Web Design know how to improve your website's usability so customers stay on your site and shop longer.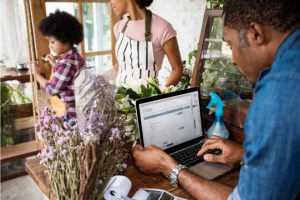 Safety
Nobody wants to risk their personal and financial information on a website that is not secure. Visiting a website that does not have the proper security features means that a customer's data is at risk of being hacked. On top of putting your customers at risk, Google now expects businesses to secure their websites and penalizes those who don't by notifying users with a "not secure" label in the address bar next to the company URL.
As a professional website company, Arden Web Design ensures every website we build uses an SSL or Secure Socket Layer. An SSL encrypts every connection between the browser and web server so any shared information is secure. With a secure connection, your customers are much more likely to use your website on a regular basis.
Speed
It's no longer 1999 when you had to wait 5 minutes for your dial-up connection to download half of a webpage. People don't have the patience to wait for websites to load anymore- they want information, and they want it instantly. In fact, Google reports that 53 percent of people will back out of your website if it doesn't load in under three seconds. That's a ton of customers leaving your website for the simple reason of slow loading times.
At Arden Web Design, we make your website so incredibly fast, customers won't have time to think of anything except why they clicked on your website in the first place. With picture compression and optimizing code, we ensure your website loads quickly so your customers stay put on your site.
Functionality
Website usability is more than just safety and speed though. Usability also includes convenience for the user. You always want to make things easier for the people visiting your site. They need to be able to get to the items or information that they want quickly and without much thought. In other words, don't make it difficult for your customers to get what they want.
We make a point to increase the functionality of your site, so your users think your website is the best one they've ever visited. From click-to-call buttons that make contacting your business ten times easier to embedded customer reviews so site visitors know how amazing your products are without any additional research, we ensure your website gives your customers the best experience possible.
Design
Have you ever been to a website and wondered why on Earth they had things placed where they were? Or maybe you've visited a site that you just thought looked downright awful. It's no surprise that people tend to like websites that are designed well. Not only do designed sites look good but they are also laid out for better usability. Where certain features are placed on a website makes a huge difference in user experience. For example, people expect a company's phone number to be located at the top right of a website and not just on the contact page.
Our professional designers know the best practices for flawless aesthetic and website usability.  We design and build your site for ease of navigation so your users have a great experience on your site and enjoy exploring every page. It's just one more aspect we put into every site so your customers shop with you more often.
Don't settle for a website that is just "good enough." A website that isn't built correctly can actually do more harm than good as it may frustrate your customers and push them to your competitors. When it comes to getting your company a website, trust the professionals at Arden Web Design to build you a good-looking and functional website.